Cissus(시서스) Quadrangularis Extract
$54.00
Specification:20:1
Quantity: 100g
Free Freight
Description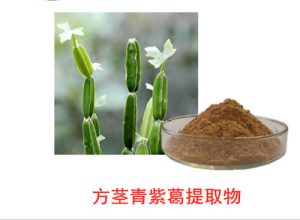 Cissus(시서스) Quadrangularis Extract
1.Latin Name: Cissus quadrangularis
2.Appearance: Yellow Powder
3.Specification: 50:1 etc.
4.Certifications: HALAL,KOSHER,ISO22000,SC,BRC(ORGANIC)
5.Packaging:250g/bag or 25kg/Drum or Customised Formulation
Overview 
Cissus quadrangularis is a type of plant that is a part of the grape family. It is sometimes referred to as devil's backbone. Most sources suggest that the plant is native to Sri Lanka or India, but it can also be found in Southeast Asia, Africa and Arabia. Many people take the extract from cissus quadrangularis in the form of a supplement because it has many benefits.
Some Application
1. It is mainly used in treatment of fractured bones, asthma and cardiac problems.
2. Regulates hormones and aids in weight control. Upon Cissus Quadrangularis supplementation, patients experienced a reduction in their weight as well as in their cholesterol, blood glucose, and triglycerides levels.
3. It is useful in eye and ear diseases and in irregular menstruation.
4. It is useful in colic, leprosy, ulcers, tumours and skin diseases.
5. It is helpful in back and spine problems.