Saw Palmetto Extract
$38.00
Specification:10:1
Quantity: 50g
Free Freight
Description
Saw Palmetto Extract
Latin Name: Serenoa Serrulata
Synonyms: Serenoa repens, Serenoa
Part of Used: Fruit
Specifications: Total Fatty Acids            85%,90%,45%,25%
Appearance: Light yellow to white fine powder
Application: food additive, dietary supplement
Benefits
Saw palmetto extract is derived from the berries of the saw palmetto plant, which has the scientific name Serenoa repens. Several clinical studies of saw palmetto extract have shown it to have a beneficial effect on benign prostatic hyperplasia (BPH) or enlargement of the prostate gland, although it is not approved by the FDA as a treatment for BPH. Saw palmetto may have other uses in holistic medicine as well. Choosing the right saw palmetto extract is a matter of determining what benefit you hope to get from the supplement and then finding a manufacturer that you trust.
Some Application
1.European traditional medicine uses saw palmetto extract to treat an enlarged prostate and benign prostatic hyperplasia (BPH).
Saw palmetto is an anti-androgen that lowers DHT levels in the body. Because of this, many believe that it can be used to combat hair loss.
2.It has long been used as an expectorant that controls irritation of mucous tissues. It has been used in the treatment of many illnesses in which mucous causes symptoms like whooping cough and laryngitis.
3.It has been used as a digestive tonic that improves appetite and digestion. It is believed to act on all of the organs involved in the digestive process.
4.It is believed by many to bring about healthy body conditions by reducing hypertrophic (enlarged) organs and increasing the size of atrophic organs.
5.It has been marketed as an aphrodisiac for men and women.
6.It has been marketed as an anabolic (muscle builder).
7.It is used by both men and women to balance hormonal activity.
Side effects and safety 
Gastrointestinal discomfort may be present. This can be reduced by taking the extract with food.
Saw palmetto extract may increase the risk of bleeding.
It may have an effect on sex hormones, so use with drugs that have similar properties should be avoided.
Dosage 
Nature's Prostate Healer suggests that for a saw palmetto product to be effective, it should provide 320 mg of 85% to 95% fatty acid extract, or 640 mg of a 45% fatty acid extract.
Third party detection report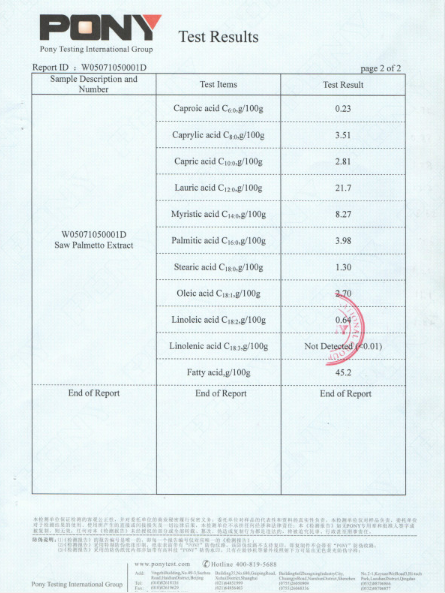 Related Products of Man's Health