Maitake Extract
$32.00
Specification:10:1
Quantity: 100g
Free Freight
Description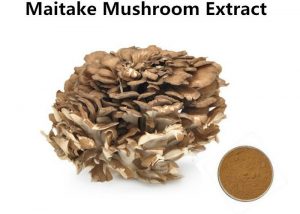 Maitake Mushroom Extract
1.Latin Name: Grifola frondosa
2.Appearance: Yellow brown Powder
3.Specification: Powder and Extract powder
4.Certifications: HALAL,KOSHER,ISO22000,SC,BRC(ORGANIC)
5.Packaging:1kg/bag or 25kg/Drum or Customised Formulation
Overview
Maitake according to chinese traditional medicine can fight disease and improve the immunity . Maitake is a kind of adible mushroom which fused in the species Grifola frondosa tree tump or Grifolar frondasa tree root . The word Maitake is literally translated from Japanese as "dancing mushroom," It has a large fruiting body and
overlapping caps.Maitake is recognized as a potent source of polysaccharide compound which has a strongly health-promoting potential.Maitake mushrooms primarily grow in the northeastern parts of Japan and the United States.
Benefits
1.Improve the immunity
2.Lower the blood pressure .
3.Inhibit hypertension and obesity
4.Inhibition of accumulation of fat cells
5.Lower the cholesterol level in blood , and reduce the risk of coronary heart disease.
6.It can strengthen the physique, and it can treat general fatigue and weakness, asthma, insomnia, and cough. Also can curing the consumptive disease
Application
Mushroom Coffee, Smoothie, Capsules, Tablets, Oral Liquid, Beverage, Flavoring etc