Horny goat weed Extract
$56.00
Specification:10:1
Quantity: 100g
Free Freight
Description
Horny goat weed Extract
English Name: Horny goat weed extract, Epimedium extract
CAS No.: 489-32-7
Molecular Formula: C33H40O15
Molecular Weight: 676.65
Active ingredients : Icariin, Epinedoside A
Specification: Icariin 20%,30%,50%,90%,98%
Use Part: Leaf
Appearance: Light yellow fine powder
Overview
Horny goat weed is a traditional Chinese medicinal herb. It is also known by its many botanical names, including Epimedium, and its Chinese name, yin yang huo.
Horny goat weed is used for weak back and knees, joint pain, osteoarthritis, mental and physical fatigue, memory loss, high blood pressure, heart disease, bronchitis, liver disease, HIV/AIDS, polio, a blood disorder called chronic leucopenia, viral infections of the heart, bone loss after menopause, weak bones (osteoporosis), and as a tonic.
Some men use horny goat weed for sexual performance problems including erectile dysfunction (ED) and involuntary ejaculation. It is also used to arouse sexual desire.
How does it work?
Horny goat weed contains chemicals which might help increase blood flow and improve sexual function. It also contains phytoestrogens, chemicals that act somewhat like the female hormone estrogen, that might reduce bone loss in postmenopausal women.
Benefits
1.Improving the function of sexual gland ,regulating the endocrine and stimulating sensory nerve.epimedium has been used to treat male erectile dysfunction in traditional Chinese medicine for many centuries. The main functions of Epimedium in ancient Chinese books focused on the nourishment of kidney viscera resulting in the restoration of erectile function in males.
2.Strengthening the immune system and promoting vasodilation, with the function of removing blood stasis.
3.Anti-aging, improving organism metabolism and organ function.
4.Regulating cardiovascular:Improve blood flow dynamics and the role of blood rheology, and can improve the white blood cells to generate.
5.Anti-bacterial, anti-virus and anti-inflammatory effect.
Side Effects & Safety
Horny goat weed extract is POSSIBLY SAFE when taken by mouth, appropriately. A specific extract of horny goat weed containing phytoestrogens has been taken by mouth for up to 2 years. Also, a different extract of horny goat weed containing icariin has been taken by mouth for up to 6 months.
Dosage
The most prudent way to approach dosage would be to follow what the manufacturer recommends. Since studies were mostly conducted among animal subjects, and from traditional Chinese medicine (TCM) practitioners, it's difficult to ascertain that golden number for dosage.
But through approximation, the human equivalent for a 40% extract of the best horny goat weed are (80mg/kg icariin) are 900mg icariin, 1200mg, and 1500mg for a 150lb person, 200lb, and 250lb person respectively. But some claim 5 to 15 grams is enough while others, in between 300 to 800 grams.
Technical Data Sheet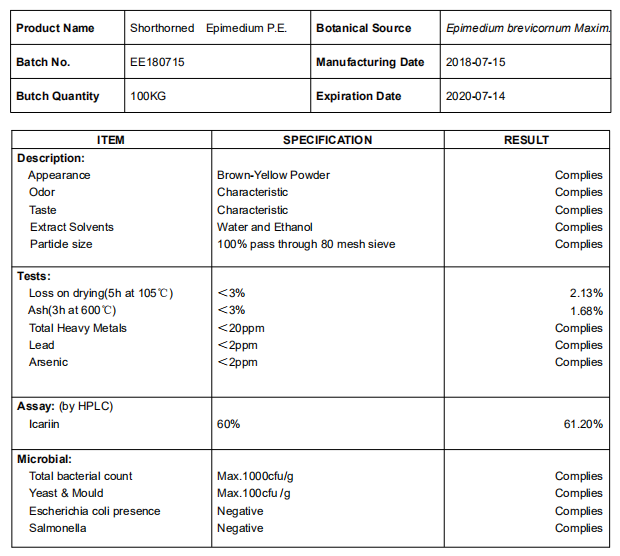 Analysis of main sexual function products on the market&Formula recommendation
We also can provide you the formula powder as your needs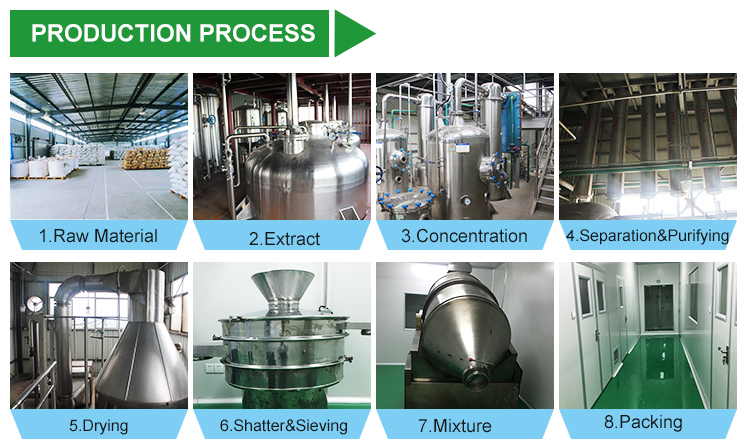 Certificates: ISO, Kosher