Written by Vicky
Recently, one of my USA customer showed interest and asked me about the Luteolin HPLC 98% and requested to purchase 50KG of quantity. After a healthy discussion, I have showed him detailed information for the Luteolin and guide him to choose the best fit for his product. He told me that many people who are interested to buy this, don't know much about it, which leads me to write the following article, which certainly be helpful to people around the globe.
For the Specification, there is a contradiction.
Ash → 13%
Normalization → 98%
External purity → 90% is not possible to achieve
Reason: If the amount of ash is 13%, then the external purity cannot reach 90%, but usually the external purity can reach up to around 85%. However, if you want External purity to reach 90%, then the amount of ash has to be controlled and should be below 5%.
For Normalization purity and External Purity, please allow me to guide you further in detail.
For HPLC testing method, in the specified test condition, ash, water, and some other compounds has no peaks in the HPLC graph, please check the HPLC graph as bellow: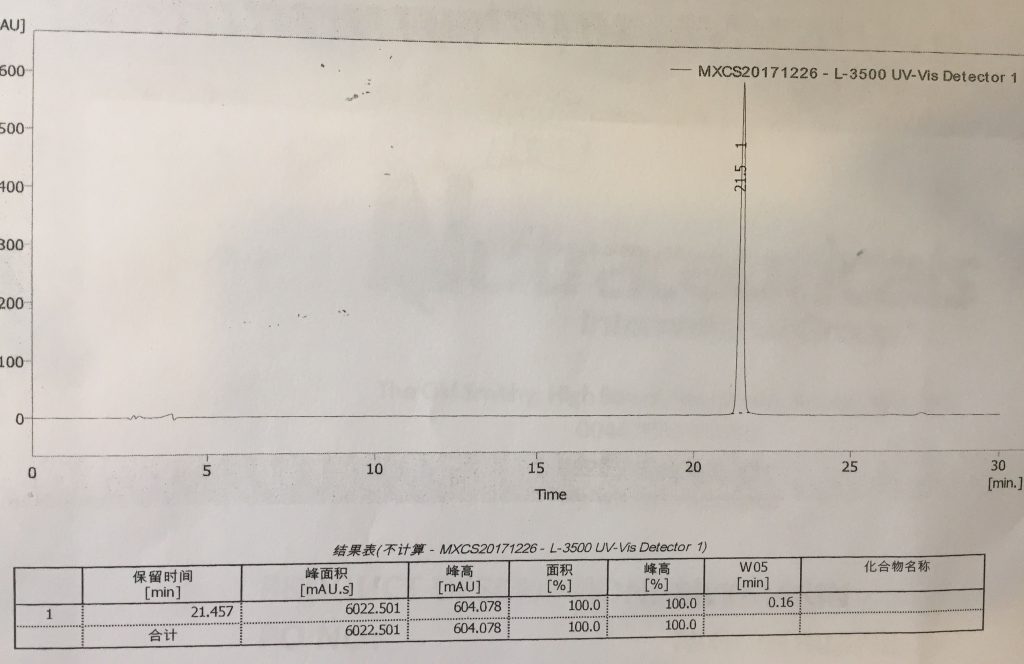 From the HPLC graph, the Normalization purity means in this graph, the proportion of the Luteolin material area to the total area. The External purity, uses a standard sigma to calibrate its real purity.
As you can see in this graph, ash, water, and some other compounds has no peak point, therefore, the normalization purity is very high, but if calculated by the standard, the purity is its real purity, and it's also called external purity.
From the appearance, there is also some minor difference, and as you can see in the reference picture attached below: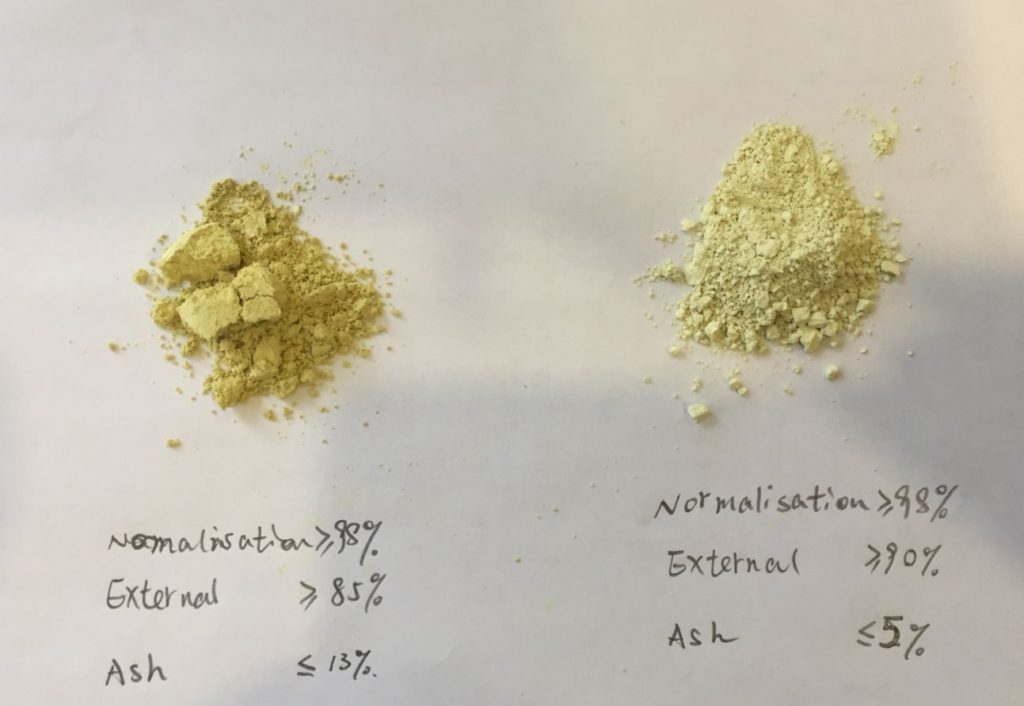 As you can see the difference in color and state. More purity has lighter and green color.
There are two Graph of External 85% and 90%, and from the graph you can check, that it has not so much big difference, so the Normalization purity can both reach above 98%. But for external purity, the first is 85%, the second is 90%.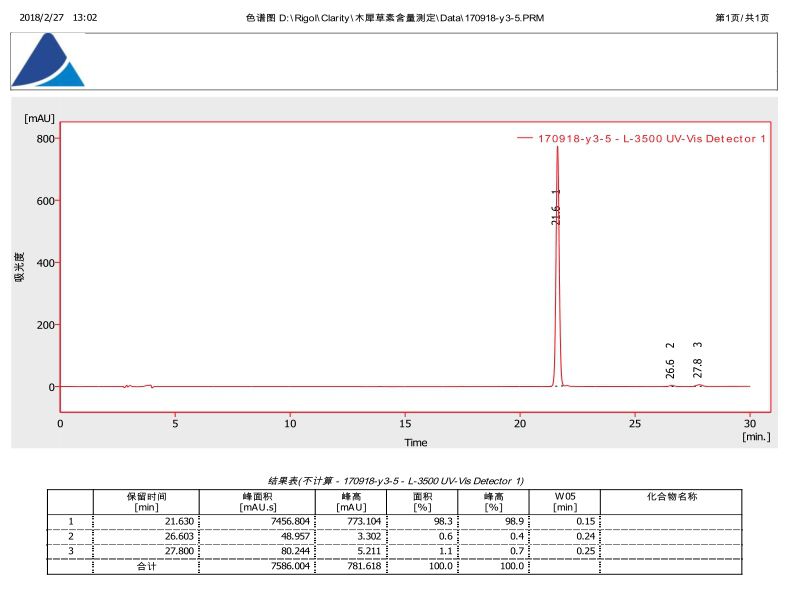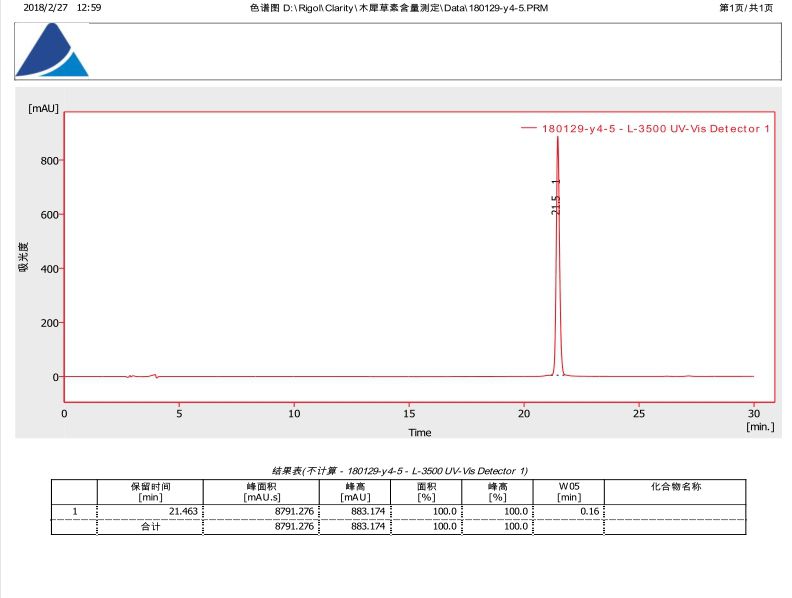 Conclusion:
We can best achieve the external purity up to or above 92% in scale production, but 95%, 98% we have already achieved successfully in semi-works production.
So usually we supply the 3 specification as follows to our customers:
Normalization 98% External 85% Ash 13%
Normalization 98% External 90% Ash 5%
Normalization 98% External 95% Ash 5%
After hearing my long explanation Mark (my customer from USA) not only decided to go for Option 1, but appreciate my guidance as well.
Vicky is the "Sales Director" and has 9 years of exporting experience in herbal extracts and health products industry. As core team member of EverforEverBio, she demonstrates a comprehensive knowledge and exceptional level of proficiency in variable international marketing excellence. She continuously uses her enrich market experience and professional product knowledge to help customers choose the best products which suits them. Under her strong leadership, BingoerTech EverforEverBio excellent products range along with quality and performance to satisfy every needs of our customers.